Targeting is a vital part of content marketing and ad creation. You must know the population you're speaking to, what they need, and how you can solve their problems. And, most importantly, you need to get their attention enough to make your destination seem appealing. 
However, limited resources can make it difficult to reach as many people as you'd like. Getting in front of a broad audience is competitive and challenging, even if your messaging is on-point. One way to extend an advertising budget with limited resources is by having a niche marketing strategy.
What is Niche Marketing, and How Does It Work?
Niche marketing in tourism is about attracting more specific groups based on the experiences they're seeking. Tourists are planning vacations that center around their interests or passions. By tapping into those preferences, you can target specific groups better and increase visitation to your locale.
Also, keep in mind that target audiences are not always tiny. For example, as you'll see below, dog-friendly travel options are more popular than ever. Dog owners make up a niche market smaller than all visitors in a specific area, but there is still a vast pool of people you can attract who want to bring Fido along on their journey.
How to Increase Travel by Targeting Specific Audiences
Targeting a niche market is a fantastic way to bring more travelers to you, even on limited resources. Start by focusing on a specific interest that fits within your tourist destination. Then, center your ads and content around that niche.
Researching the niche market, finding out what interests them most when traveling and using what you learn to create content across all of your destination marketing channels is a good way to grab potential visitors' interest. People are more likely to pay attention if you're talking about something that directly applies to them.
You can easily segment your target audience into different smaller niches. Grouping interests will allow you to deliver more tailored messages and view data from that segment.
Niche Marketing Examples
If you need some inspiration, here are some examples of niche marketing based on specific interests:
Dog-friendly Places
For many people, their dogs are part of the family, and many choose to bring their pups along on vacation. Plus, the loneliness of the pandemic had many people adopting dogs who are now part of travel plans. You could target dog lovers by highlighting dog-friendly aspects of your destination.
For example, take this blog post on dog-friendly spots in Vicksburg, Mississippi. It highlights things to do, places to eat, and where to stay when you have a dog in tow. The city also used this ad targeting dog owners planning to visit the area: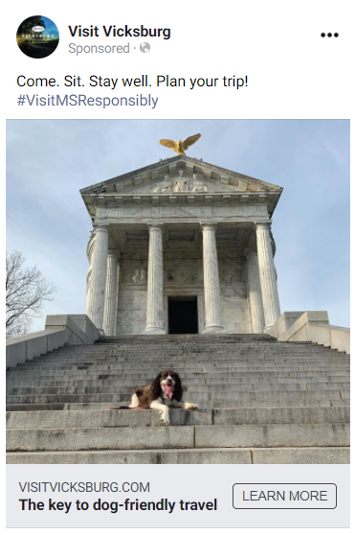 Outdoor enthusiasts
Some travelers want thrills during their vacation time. Marketing strategies might focus on highlighting opportunities for: 
Mountain biking

Rock climbing

Cycling

Horseback riding

Whitewater rafting

Or other action-packed outdoor offerings
Niche-ing down further, you could target any of these activities specifically, too.
Honeymooners
Newlyweds often head to a fun destination after the wedding to celebrate the beginning of married life. Destination marketers might target honeymooners (or engaged couples who will soon be married) seeking quiet, romantic getaways or adventurous activities nearby. 
The possibilities are endless. Other niche ideas include:
Museum-goers

Classical music lovers

Casino-goers

Seafood lovers

Foodies

Sustainable travel
The more you define your niche, the better you can refine your marketing strategies. The group might get smaller, but that also means you'll reach more people looking for exactly what you're offering. That being said, you might also need to create a niche offering, package, or limited-time special to which the target market can't say no—it's just that perfect for them!
Booking travel is easier than ever before. While niche audiences have always been a thing, you can do them most effectively in our current times. Niche down correctly, and you can grow your reach substantially.
At Advance Travel and Tourism, we live and breathe destination marketing. With 50+ years of combined experience, we know what it takes to effectively target specific niches, maximize your reach, and get the most out of your marketing efforts. Contact us today to discuss your marketing needs!