BIRMINGHAM, Al (February 2020) –Jacquelyn Blackwell, Sales Manager at Advance Travel & Tourism has completed the three-year program of the Southeast Tourism Society Marketing College and earned certification as a Travel Marketing Professional (TMP).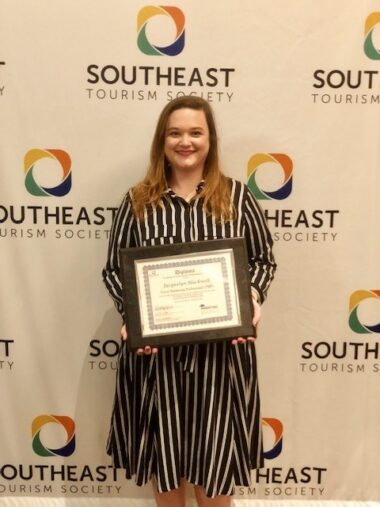 Blackwell has 5 years in the tourism industry and 8 years in digital marketing. Working her way up from Account Executive, to Account Manager, to Regional Sales Manager covering GA, TN, SC, FL, Jacque possesses excellent digital marketing understanding and insight, and now a solid understanding of the tourism industry. She has worked with over 50 DMOs directly to help enhance their marketing campaigns and communicate that success to stakeholders. Blackwell has spoken at several travel conferences with topics ranging from digital jargon 101 to the evolution of video.
Blackwell was among 65 STS Marketing College graduates in the Class of 2019. The graduates were announced at the STS Connections conference in Little Rock, Arkansas on Monday, February 10.  The program began in 1992 and has produced 1,296 TMPs.
STS Marketing College uses facilities at the University of North Georgia, located in Dahlonega, Georgia, to teach travel marketing for a week each summer. The continuing education program began in 1992.
Registration is open for the 2020 session, which will take place July 26-31. STS membership is not required, but STS members receive a reduced tuition rate.
Instructors are travel industry professionals such as convention and visitor's bureau executives, public relations practitioners, sales and marketing consultants, and research experts.
"Our Marketing College program is designed to provide applicable tools and working knowledge that our travel and tourism professionals can immediately implement when promoting their destinations, attractions, hotels, and events," said Monica Smith, Southeast Tourism Society's President and Chief Executive Officer.
Study topics include online marketing strategies, creating an eye-catching and engaging tourism brochure, social media content planning and distribution, Google analytics, travel and tourism research, community engagement, economic impact studies, and budgeting. In addition to classroom work, students also must complete two projects that relate to their job while utilizing skills that were learned throughout the program.
"It has been helpful both professionally and personally in my career growth to attend and complete my TMP." said Blackwell. "I am so proud to work for and partner with organizations that put so much energy into continued education. I have made life long friends and business partners throughout the 3 years. I am sad that the experience is over, but eager to continue to be an avid member of STS by attending other conferences they put on, and alumni classes at Marketing College."
"Since its inception almost 30 years ago, Marketing College has elevated the level of service and professionalism visitors receive when traveling to the Southeast and has supported efforts to increase economic development through tourism.  We're proud to be a part of that positive impact throughout the region," said Smith.
About Southeast Tourism Society (STS)
Headquartered in Roswell, Georgia, Southeast Tourism Society (STS) is an association that works to unite all segments of the travel and tourism industry through its four pillars of education, advocacy, recognition, and networking. Established in 1983, STS is an engaged network of 1000+ members from 13 states and the District of Columbia including Alabama, Arkansas, District of Columbia, Florida, Georgia, Kentucky, Louisiana, Mississippi, Missouri, North Carolina, South Carolina, Tennessee, Virginia, and West Virginia.  For more information, visit SoutheastTourism.org.
Contact:
Wendy Thomas
Southeast Tourism Society
770-542-1523
###