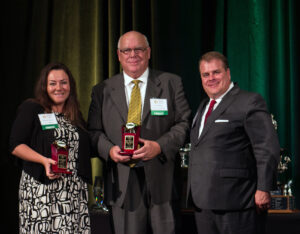 Gulf Shores, AL (November 29, 2019)…The Alabama Restaurant & Hospitality Association (ARHA) recently announced the winners of their 2019 Stars of the Industry Awards that honor the restaurant, lodging and tourism industry. Gabrielle Barnett, the marketing and communications manager for LuLu's in Gulf Shores, was the co-winner of the prestigious 2019 Tourism Promoter of the Year along with Herb Malone, president of Gulf Shores & Orange Beach Tourism.
With over 80 Stars of the Industry nominations submitted state-wide, the awards are peer-nominated and winners are selected by ARHA's board of directors.
"The Stars awards dinner is our chance to recognize those who have demonstrated excellence and serve as an inspiration to others in the restaurant and hotel industry and our community. On behalf of ARHA, I am proud of the members we have and the outstanding accomplishments they make day in and day out," says Mindy B. Hanan, President and CEO of the Alabama Restaurant and Hospitality Association.
Gabrielle Barnett has worked for LuLu's and the tourism industry for more than 14 years. Born and raised in Gulf Shores, she has always had a heart for promoting the area and Alabama. She was also recently selected by Alabama Tourism to represent the state of Alabama at the upcoming Travel South International Showcase.
"Gabby grew up working professionally in all of LuLu's departments before moving into our Marketing department. She has always been a shining star and devoted not only to LuLu's but to her home town and home state. This is a great honor and well-deserved recognition for her consistent hard work and her willingness to grow. I couldn't be more pleased for her," commented Lucy Buffett, LuLu's owner, restaurateur and author.
Barnett extends her multiple talents overseeing the marketing and communications for LuLu's in Gulf Shores, Alabama as well as the locations in Destin, Florida and North Myrtle Beach, South Carolina.