Laura Beth Strickland, employee of Vicksburg Convention and Visitors Bureau for 10 years, has recently been named the CVB's newest executive director. As a Vicksburg native and proud Mississippian, her experience and passion for growing the tourism industry in Vicksburg is not only a professional goal but also a personal goal of hers.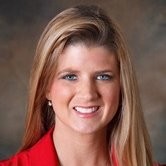 Her executive director title will entail various high-level responsibilities such as acting as the official spokesperson for Vicksburg CVB, advocacy and working with state and national legislators.
"This is a great chance to further build relationships with our stakeholders," said Strickland. "There has been such a great foundation built for Vicksburg tourism and I can't wait to take it to the next level."
Before starting her career at Vicksburg CVB in 2009, Strickland completed her education with a double major of English and Journalism at the University of Mississippi.
Strickland is married to husband Michael and has two children, May and Michael Lanier (as well as a fur child!) When she isn't busy bettering the Vicksburg community she enjoys traveling, going out to eat and shopping.
Godspeed to Laura Beth and congrats on the new role!