While Tennessee Whiskey has always enjoyed a cultural spotlight thanks to brands like Jack Daniel's- Frank Sinatra's drink of choice, or hit songs by Chris Stapleton, the Tennessee Whiskey Trail itself hasn't enjoyed the brand recognition and awareness of its counterpart to the north, the Kentucky Bourbon Trail.
The Tennessee Whiskey Trail had never attempted a digital marketing campaign outside of boosted social media posts before partnering with Advance Travel & Tourism.
The goal for our campaign was simple: raise awareness of this culturally iconic brand both in its key feeder markets and in some nearby growth markets.
In order to accomplish our goals we went for awareness and planning tactics in our product mix. Google/CPC Display is a high awareness tactic that can drive millions of impressions and help boost organic and direct site traffic. We also wanted to provide visitors greater planning resources once they got to the website, so we wrote 6 blogs for the Trail's site and promoted them through paid social media.
To introduce a uniquely southern brand to a uniquely southern audience, a sponsored It's A Southern Thing article was written that highlighted ten distilleries on the trail that every whiskey lover should visit.
At the end of this 6 month campaign that ran from January to June, 2021, we saw incredible site traffic growth in our target markets and great organic traffic increases as well.
Key Campaign Objectives
Drive general brand awareness and exposure of the Whiskey Trail.
Generate more engagement on social media platforms.
Create engaging content for website.
Tactics

Targeted Display

Content Marketing

Social Media Marketing
Results
• Over 8.4 million ads served to potential travelers.
• Over 45,000 direct website visits driven from our campaign tactics.
• Advance tactics accounted for over 36% of all website traffic during our 6-month campaign.
• It's A Southern Thing Article/Facebook Post:
• 23,170 article pageviews
• 4,097 post reactions
• 768 post shares
• 325 post comments
• 285,915 People Reached
• Average Growth in Target Markets by Site Users over 2020: +382%
• Average Growth in Target Markets by Site Users over 2019: +472%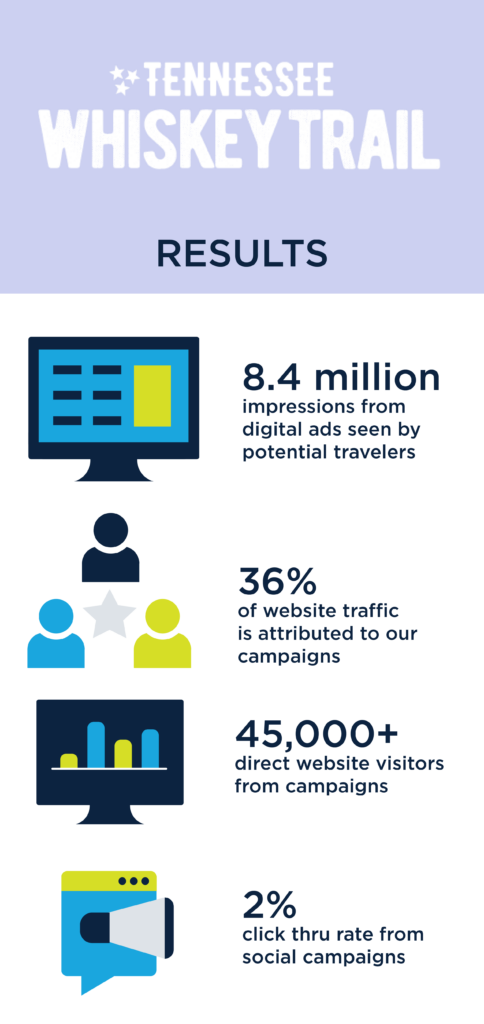 If you want to learn more about our partnership with Tennessee Whiskey Trail or any others, connect with us here. We would be happy to talk more about how a strategic and thoughtful digital marketing campaign with us can directly influence your visitation.