Who is Resort Vacation Properties?
As the largest vacation rental company on St George Island, FL (Franklin County), RVP offers close to 300 premier beach vacation homes all over the island with various amenities to fit every family's vacation needs.
The Governor of Florida banned short term vacation rentals on March 25th due to COVID-19, and by May 19th Franklin County was approved to reopen under the contingency of not inviting travelers from known COVID-19 hot spots at the time — NYC and Louisiana. RVP's Marketing Director, Jamie Martina requested a thoughtful creative approach to be mindful of the threat of COVID-19, as well as sensitive to traveler sentiment. The relaunch campaign was designed to reengage with top converting audiences and drive bookings to make up for the major losses from the 56 day shutdown.
Strategy:
RVP and Advance Travel and Tourism deployed a nationwide comprehensive digital e-commerce strategy focused on driving online and call center vacation rental home bookings, with a goal on rebounding lost revenue during the closure of vacation rentals due to the pandemic. The strategy was built around capturing the most likely travelers in every step of their buying cycle—starting with dreaming and closing the loop with actual bookings. There is an element of advocacy built into the campaign through social channels, showcasing sharable visuals and content.  At the same time, Advance Travel and Tourism was also tasked with implementing the redirects for the successful launch of their new site. Priority geographical targeting included an emphasis on shorter drive markets– Nashville and Birmingham, while still reaching ideal travelers in further distant locations.
Key Campaign Objectives
Increase reach and engagement in target markets to assist in growing bookings
Drive bookings during the summer months
Results
May 22, 2020 – August 2, 2020
From the relaunch of their digital marketing efforts in late May through July, RVP has experienced great success in overall bookings, new users to the website, and website channel increases.
Resort Vacation Properties bookings are up 4% YOY for this timeframe and are projected to be up in the fall.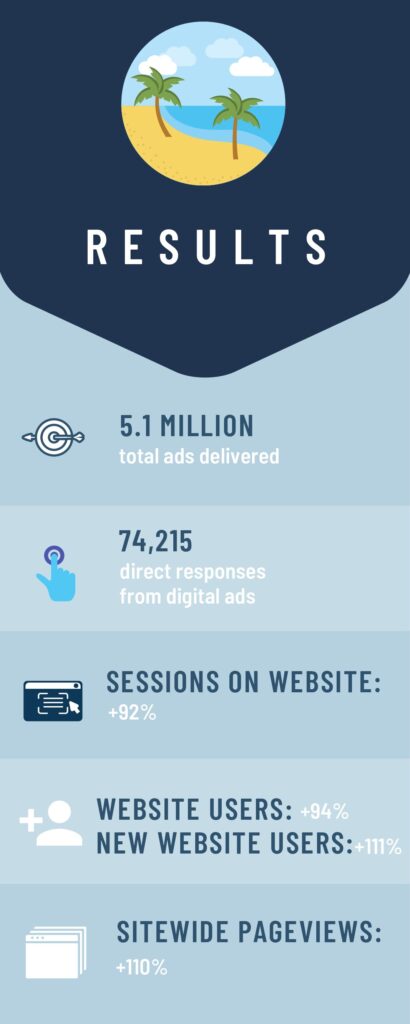 Testimonial
Working with Jamie, Kayla, Dana and Diana has been a great partnership because of the level of trust we have developed over the last 4 years working with RVP. They are the kindest most genuine hardworking women, you will find in the vacation rental property management industry. The love they have for St George, their employees, and guests is what sets them apart from all the rest.
We at RVP love working with Randolph, Adrienne and the Advanced Travel team.  The service they have provided us before and after the pandemic has been above what we could have asked for.  No matter what kind of marketing we ask for they have the solution.