How did Visit Beaufort overcome a worldwide travel ban once restrictions were lifted?
We don't have to rekindle the past. We all know how hard the travel/tourism industry was hit this year. With stay at home orders and travel restrictions, we were all scrambling with what to do. In May of this year, the travel restrictions were lifted. Visit Beaufort and Advance Travel and Tourism worked closely during the previous months of the pandemic to have a strategic plan in place when people could travel again.
The goal of the recovery campaign was to drive high level awareness, while also enticing potential travelers to directly click to Visit Beaufort's partner websites. It was important in the early stages of re-opening that the campaign was softly asking people to visit again.
Advance Travel and Tourism in partnership with Visit Beaufort launched the phased marketing campaign right after Memorial Day 2020. Because travelers were still fairly hesitant of airline travel during this time, the campaign was to focus on core drive markets and families in need of a quick escape from their local area. The deployment methods included targeted display, video distribution, and paid social to put the Visit Beaufort brand in front of ideal travelers, along with enterprise level paid search and retargeting to drive on site conversions.
Key Campaign Objectives
Drive high level awareness within short drive markets
Entice potential travelers to visit Visit Beaufort's partner websites
Tactics

Behaviorally targeted digital display

Video Marketing

SEM & Remarketing

Social Media Marketing
Results
May 29, 2020 – August 31, 2020
The strategic digital marketing campaign had excellent correlation with Visit Beaufort's Short Term Rental Occupancy Rates, ADR, and RevPar from June 2020-August 2020. Visit Beaufort had an 8% increase in available listings, and was able to accomplish Occupancy Rates nearly 14% higher than 2019. While many DMO's saw significant decreases in ADR, Visit Beaufort was able to maintain a steady ADR year over year, and successfully generated 12% more in RevPar.
For Hotel Occupancy in Beaufort, there is not quite as much success, but still positive trends compared to regional and state level hotel occupancies.  For the southern region of the U.S and for South Carolina, hotel occupancy through August 2020 is down an average of nearly 45%, however for Visit Beaufort, Port Royal, Sea Islands, hotel occupancy rate is down only 5% compared to 2019. Hotel RevPar for the southern region of the U.S is down 42% and 43% for SC, while Beaufort has been able to maintain only a 24% decrease in RevPar for June through August. ADR for Visit Beaufort is also trending higher than South Carolina with only a 16% decrease compared to 18% for the state.
On average targeted markets were up 62% sitewide, with over a 100% increase in Conversions YOY.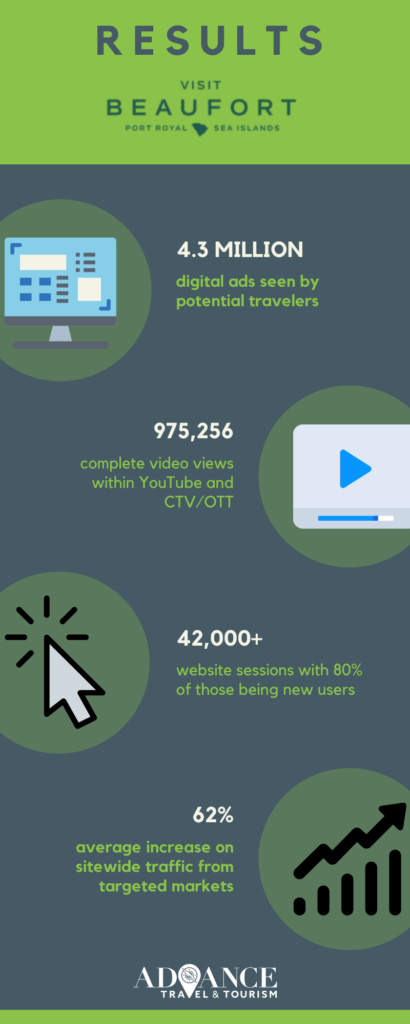 Testimonials
It has been really interesting to work with Robb and Visit Beaufort on their recovery strategy. Robb is an industry thought leader when it comes to marketing his area and this campaign really shows that. We use a highly collaborative approach by pairing our comprehensive approach to marketing and Robb's KPIs  to create a digital marketing campaign that creates measurable results from all levels. We are excited to continue the partnership into 2021 and continue to make Beaufort a premiere destination year around. If you haven't been to Beaufort yet—put it on your bucket list!
Advance Travel and their team worked with us through every step of the process with timely data, appropriate messaging, and thorough analysis.  Given the uncertainty of the times, our budget reflected the industry's troubles during March and April.  Advance Travel created a flexible plan that allowed us to maneuver. 
If you want to learn more about our partnership with Visit Beaufort, Port Royal – Sea Islands or any others, connect with us here. We would be happy to talk more about how a strategic and thoughtful digital marketing campaign with us can directly influence your visitation—even during a year of change.