Since the COVID-19 vaccine was approved for use on Dec. 11, 2020, its rollout in the USA has been slow, with only 12.3 million of the 31.2 million given doses being administered. There are multiple reasons for the vaccine's slow roll out, from distribution largely being left to the states, to the simple novelty of the situation we're in. Once thing is for sure – people are ready to get back out there and travel again, and with the new presidential administration taking over (with a seemingly robust vaccine distribution plan), traveler sentiment is shifting in favor of travel.
We reported in our Dec. 2020 webinar that 44% of polled respondents believed that their first trip after receiving the COIVD-19 vaccine will be a vacation, likely to a place far from home. 34.5% said they were neutral about the statement, while 21.3% did not agree with the statement.
Fast forward to only a month later: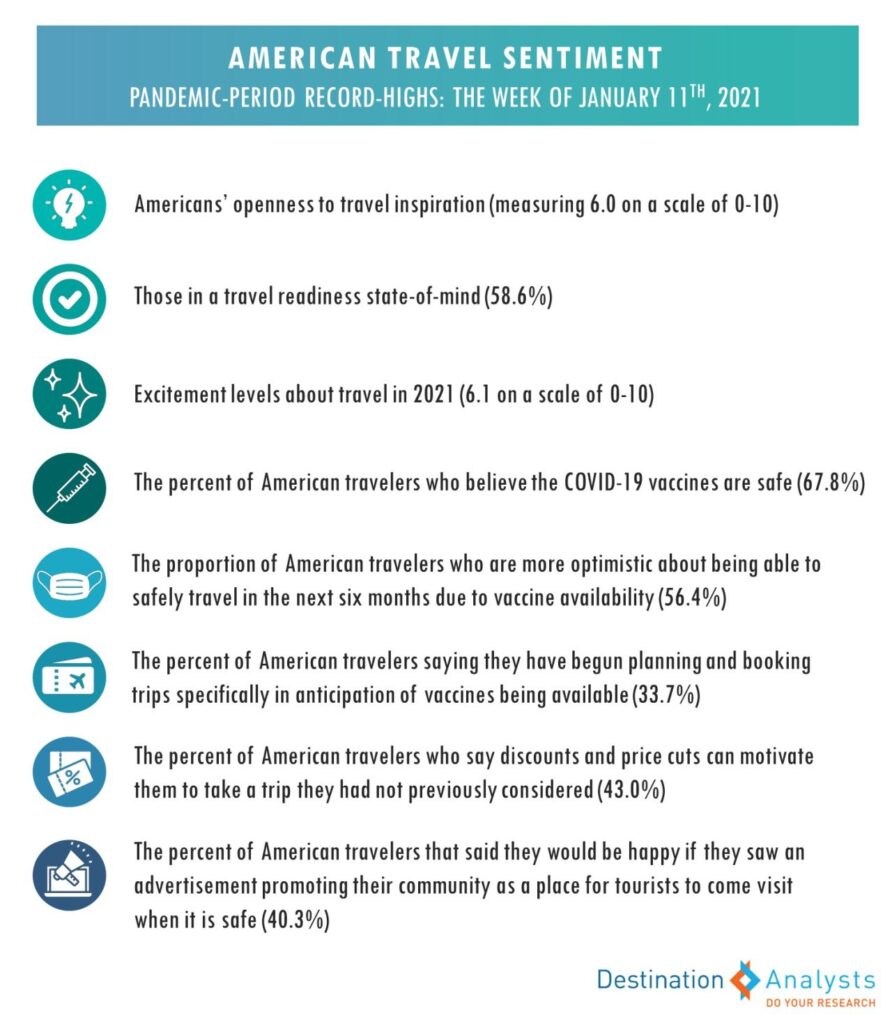 You can see that traveler sentiment has shifted in favor of travel significantly within the month, with the proportion of American travelers who are more optimistic about being able to safely travel in the next six months due to vaccine ability being 56.4% (compared to the Dec. 2020 similar statement that reported 44%.) Destination Analysts also reports that as of Jan. 14, 48.9% say they will take at least one leisure trip in the next 12 weeks, up from 37.5%. Of those Americans who will travel, they anticipate 1.7 overnight trips on average, largely within 250-miles of where they live.
As the vaccine continues to be distributed, travel marketers should monitor the state-by-state rollout speeds and target their marketing messages accordingly. Since its likely that all essential workers and most of the older population will receive the vaccine before the general population (some of these groups have already begun the vaccination process), it could be useful to start segmenting out your audience and targeting your message in such a way that reflects the timeliness of the vaccine rollout among different population groups.
Like what you see? Want to know more?