Meet our wonderful Regional Sales Manager, Jacque Blackwell! Jacque has been in the travel and tourism space for more than 9 years, working with attractions, DMOs and VRs across the southeast.
Born and raised in Birmingham, AL, Jacque currently resides in her hometown after living in several communities throughout the state.
Her favorite thing about working in tourism? There are several!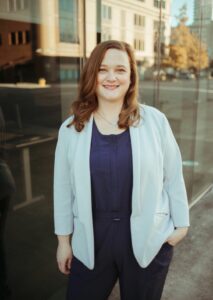 "I love to travel personally and professionally, so exploring new, lesser known towns is really fun," said Blackwell. "I love the relationships and colleagues/friends I have made throughout my time in travel and tourism and I also really love making a difference to better communities through tourism efforts.
Jacque loves visiting all places she travels to, but if she had to pick a favorite, it would be South Carolina.
Outside of work, Jacque enjoys taking her little one to a whirlwind of activities: piano lessons, cheer, gymnastics, girl scouts, dance among others. You can see how this takes up a lot of her time!
Jacque is a huge asset to our team and we appreciate her dedication and leadership.