How to Successfully Market in a Pandemic
It's no secret that COVID-19 brought numerous challenges to the travel and tourism industry. With no one traveling and attractions being forced to close, travel destinations were faced with the difficult decision to either pivot their strategy or halt marketing spend all together.
Our client Discovery Park of America shares their plan of action once the pandemic began.
Located in Union City, Tenn., Discovery Park of America is a 100,000-square-foot museum and 50-acre heritage park featuring exhibits and activities on local history, nature, military, history, art, science and more.
Phase 1: Stop, Listen, Proceed with Caution
On March 17, Discovery Park of America closed because of the threat brought on by the worldwide COVID-19 outbreak. Their goal was on the safety and welfare of their community, guests and staff. That being said, once they made the decision to close, they pressed pause on paid advertising.
"We then came together as a team to quickly brainstorm about how to keep that connection with our audience while they were at home. We turned to our social media platforms to share new content, including 'ArtiFACTS of the Day,' a video series called, 'Moments of Discovery,' '#WildlifeWednesdays' and other fun and engaging content pieces," said Marketing and PR Manager Katie Jarvis.
Jarvis and team found new ways to engage with their audience, such as offering virtual tours where fellow coworkers shared fun facts about different galleries. Plus, the social media team took the audience behind-the-scenes at Discovery Park while followers joined in on Facebook, Instagram and Twitter.
"After brainstorming on how to take advantage of this shift in advertising, it was easy to change our message from inviting people to the park to inviting people to join the conversation online," said Jarvis. "With patience, perseverance and energy, we were able to virtually continue our mission of inspiring children and adults to see beyond, even if that meant doing so virtually."
Because of event cancellations, Discovery Park switched focus, specifically in their social media strategy, from promoting events to promoting educational content. This helped them realize the new focus was exactly how they wanted to position themselves as an organization.
"As a museum, we are here to serve the public as a premier museum and educational institution," said Jarvis. "Since we shifted our social content to highlight more educational concepts, we now share about 70% educational content pieces and 30% event-focused content pieces. And, we plan on keeping it that way."
Phase 2: Beginning Again
During this phase, we advise DMOs/attractions to showcase what they're doing differently to keep visitors safe. Staying encouraged, hopeful and aware of public concerns should take the main focus when starting to promote the destination again.
As soon as Jarvis and team received an official reopening date, they started back with paid advertising. The updated messaging reflected a safe and touch-free experience when purchasing online tickets.
The team also communicated in the messaging that Discovery Park would be closed for deep cleaning on Tuesdays and Wednesdays. Additionally, they shared videos about how the park was planning to keep all employees and guests safe as they were welcomed back to the museum and heritage park.
If there is another shutdown, Discovery Park of America plans to allot all efforts back to engaging with their audience online and through social media even more.
In our latest eBook We Will Travel Again, we discuss how travel marketers can adapt to the current situation in a way that will set them up for success later. To best position our brands for success as the phases of this crisis transition one to the next, we must prepare. This crisis will not last forever, and travelers will hit the road again. In fact, they're already planning their first great escape. Will you be there?
About Katie Jarvis: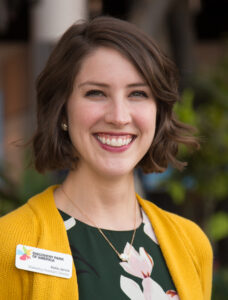 Katie Jarvis is the marketing and PR manager of Discovery Park of America in Union City, Tenn. For five years, she was the social media manager before moving up to her current position. Jarvis received her degree in communications from the University of Tennessee at Martin. She is a member of the Union City Kiwanis Club and is a board member for the Masquerade Theatre and Union City Main Street.
Advance Travel & Tourism is helping tourism marketers find success in a time of maximum uncertainty and change.  Everything we do is tailored to meet the needs of our individual clients – from DMO's to attractions to hotels and casinos.  We're helping our clients find marketing success in an environment that's shifting every day, and we'd like to work with you too. Drop us a line, shoot us text or send us an email and let's dive in together to find strategies that make sense for you.