Mississippi led the way, and one year later we look back to see what happened and what's next for the market.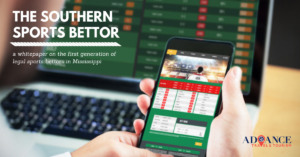 Sport Book officially went live August 1st 2018, and Mississippi became the first Southern to legalize state-regulated sports betting with one caveat – you have to be in a casino to bet.  One year later, 23 Mississippi properties are on board and enjoying an increase in their total revenues.
According to the gaming commission, Mississippi casinos collected $15 million in sports betting revenue from August to December alone.  In our 2018 whitepaper The Southern Sports Bettor, we predicted that legal sports book would drive new audiences to casinos.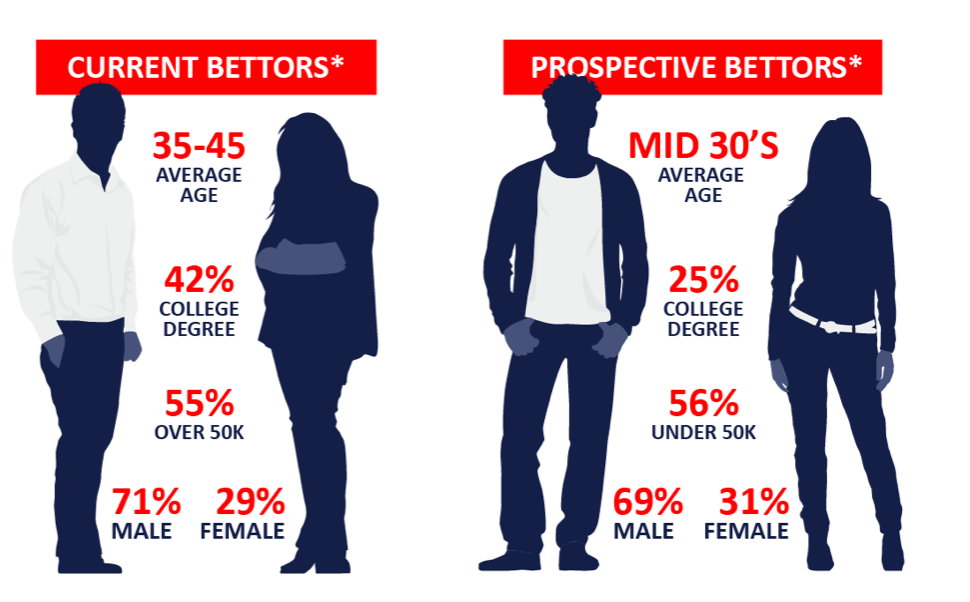 Nationwide Bettors will start to skew younger and less affluent
*Source: Morning Consult, Legal Sports Gambling's Future Younger Less Wealthy Bettors, June 2018
The true win for casinos was to both create a new revenue stream and to drive new business from a new demographic.  And, these new bettors are doing more than betting.  Casino management has noted that those who travel to Mississippi to participate in sports betting also drive up casino hotels nights, restaurant spend, and gamble on other games.
"We do know that with those who are sports betting are staying the night, gambling, and eating at our hotel and casino." – Chett Harrison, GM – Golden Nugget Biloxi
Gaming Revenue Up from Football and March Madness
Our survey asked participants if and how far they would be willing to travel to bet on sports.  84% of new sports bettors said they would be willing to travel – many of them over 100 miles.  Both fall football sports book successes and 2019 March Madness revenues were proof that sports book could make a big impact year over year in both gambling and revenue from other areas like food and lodging.

The Saints Bettors Came Marching In 2018
Legalsportsreport.com says college football drove Mississippi sports betting along with a great season from the Saints that are less than 100 miles away from Biloxi.  Statewide, revenue rose to 2.11 billion (up $44 million from 2017), but $15 million of that was from sports betting from August through December.3 The coastal casinos ended the year up 3% while the river casinos came close to breaking even in 2018 (partially due to sports book) declining less than a percent. 
March Madness Blew the Lid Off in the Gulf Region
In 2019, a lot of activity came from the frenzy of the NCAA Division I Basketball Tournament.  During March Madness Mississippi casinos saw an influx of hopeful betters and college basketball fanatics seeking to cash out their earnings from their fantasy brackets.  Coastal sports book revenues were up 13% from February to March with gamblers losing $11 million more in March 2019 than they did one year ago in the state.
Who's Adding to the Betting Frenzy?
Since 2017 daily fantasy sports betting has been legal in Mississippi, and when you combine the opportunity to place bets on actual games along with legal daily fantasy sports, you get a whole new generation of casino prospects walking the floor.
Remember from our survey the Southern fantasy sports player looks a lot like the younger gamblers brought into the market through legal sports book.  Connecting this audience with wagering on live games, drawing them into the casino for overnight stays and meals has been a difference maker.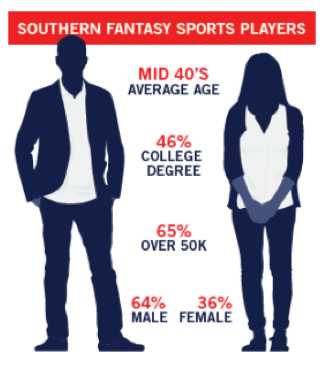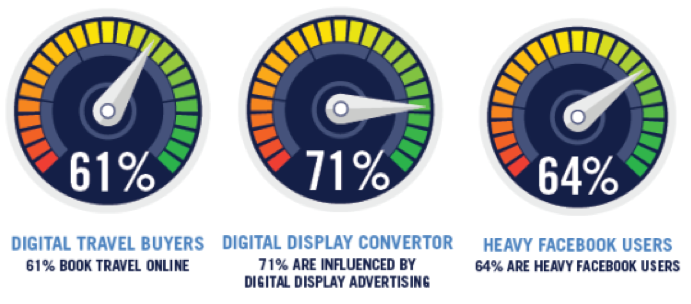 What's Threatening MS Success?
Legalization of sports betting in neighboring states threatens Mississippi's competitive advantage of being the exclusive provider of sports betting services in the south east.  Arkansas and Louisiana are close to the finish line.  Tennessee has already begun to introduce sports betting by legalizing sports betting through online and mobile applications. That's something that Mississippi doesn't have, yet.
If Mississippi casinos will keep pushing the experience around betting in person, they can convert groups of new gamblers and fantasy sports enthusiasts.  Our research showed gambling is something enjoyed in groups.  And, with fantasy sports – think fantasy drafts and watch parties – casinos should aggressively push group packages and fantasy sport party packages that incent large groups of friends to gather together to enjoy online fantasy coupled with sports book betting on real games.

Interested in launching, or redefining your sports-bettor marketing strategy? Our strategists know this audience, and we can help you build a plan to find these bettors and bring them through your doors. With advanced digital capabilities and insights, Advance Travel & Tourism's marketing solutions can help you build a multi-tactical marketing plan to launch your newest potential revenue stream. Contact us today for a free marketing analysis.